Asia Travel Re:Set #12 – Air Bubble Reunions Go AWOL in Australia
The first three days of the Trans-Tasman Travel Bubble proved embarrassing.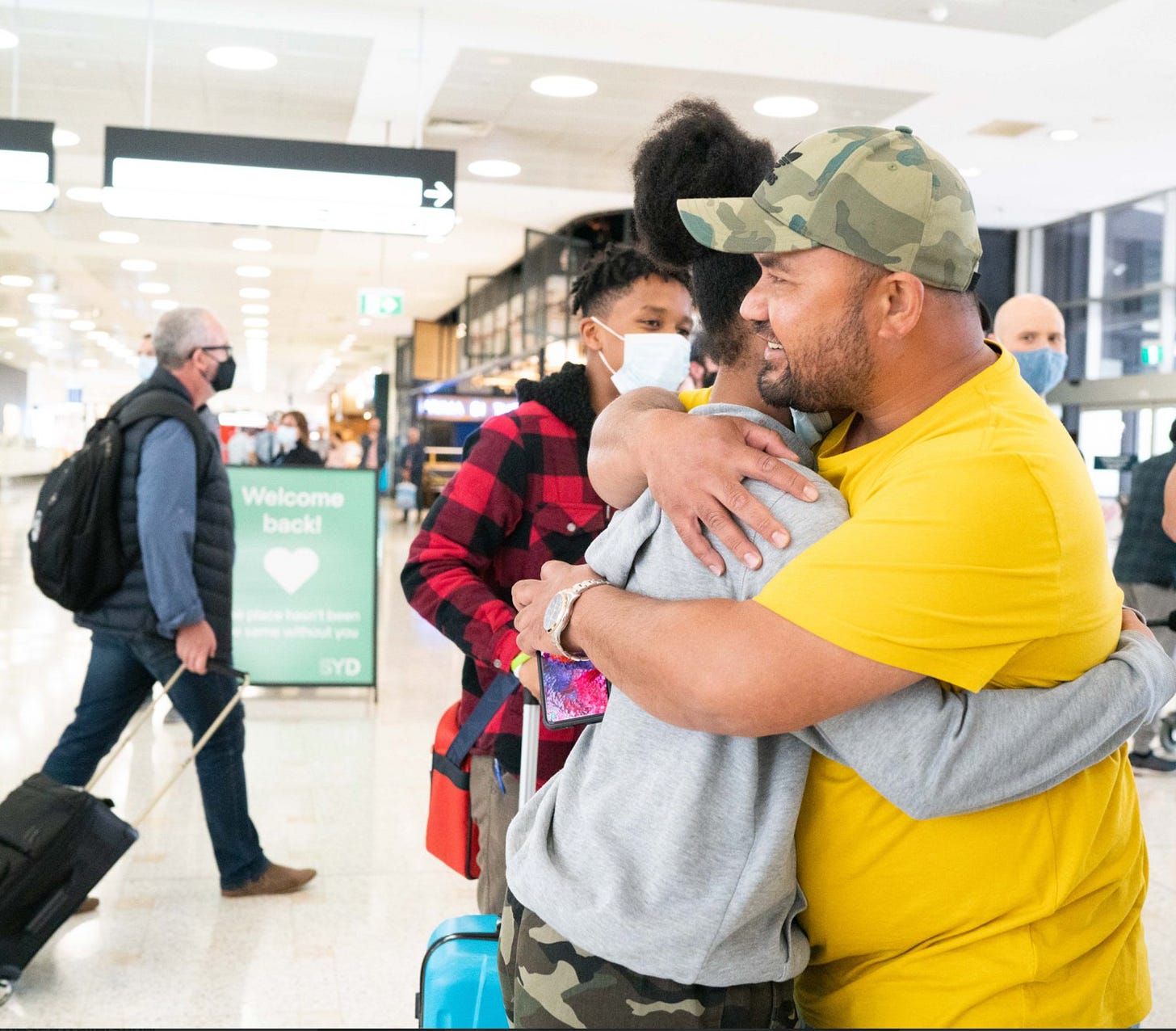 Hello. Welcome to Asia Travel Re:Set.
We live in a perplexing world.
This week, several European nations retreated into winter movement restrictions and city-based lockdowns. Yesterday, France (32,427) and Germany (7,830) both reported record daily new case numbers.
The US trumped that with nearly 53,000 cases. India counted 63,000.
And yet travel positivity is probably at its highest level in Asia Pacific for 7 months.
A cautiously upbeat outlook is likely spurred by China's buoyant Golden Week rebound. Japan and Singapore are also cajoling new, albeit limited, bilateral agreements from more reticent governments.
Overlaying this, certain countries are displaying confidence that scientific progression is working in their favour - and a vaccine will reinforce solid suppression strategies.
Meanwhile, Hong Kong and Singapore announced a bilateral travel bubble, and New Zealand and Singapore commenced (rather chaotically) phase one of the Trans-Tasman bubble.
The Philippines said it is ready to let its residents travel overseas.
And Japan is deploying advanced science and technology to ensure next year's delayed Olympic Games can go ahead - with spectators in the stadiums.
Among a surfeit of recent rumours, Thailand says it is negotiating a pact to welcome Chinese travellers, and Hawaii may be doing likewise to bring back Japanese tourists.
Who knows what the next 7 days will bring.
Thanks for being onboard,
Gary
---
The Sunday Itinerary
- DashBoard
- QuoteBoard
AirAsia X, Hong Kong & Thailand
- The Top 8 Developments of Asia's Travel Week
Air Bubble Reunions Turn Chaotic in Australia

Bring on the SIN-HKG Air Bubble

Asia's Mixed Economic Outlook

Sitting on the Dock of China's Greater Bay

Tokyo Keeps the 2021 Dream Alive

Seeking Fun In and Out of the Philippines 

Malaysia Airlines Shuffles its Cards

Cambodia's New "Luxury" Airport
---
DashBoard
GDP Growth Forecasts 
       2020 (%)         2021 (%)
Global             -4.4                  5.2
China              1.9                    8.2
India               -10.3                 8.8
Japan              -5.3                  2.3
ASEAN 5*       -3.4                  6.2
* [Indonesia, Malaysia, Philippines, Thailand, Vietnam]
Source: International Monetary Fund
---
QuoteBoard
You heard it here…
"We have run out of money"
Lim Kian On, Deputy Chairman, AirAsia X (The Star, Malaysia)
"For a lot of visitors in the future, when they come to Hong Kong, it is not just coming to Hong Kong, but they would also make a side trip using the high-speed rail or mega bridge to the Greater Bay Area"
Dane Cheng, Executive Director, Hong Kong Tourism Board (Straits Times, Singapore)
"China has about 800 million people in 22 provinces that have been free from infections. If we can attract even just 1% of those people to travel here, that would already be plenty"
Phiphat Ratchakitprakarn, Thailand's Minister of Tourism & Sports (Straits Times, Singapore)
---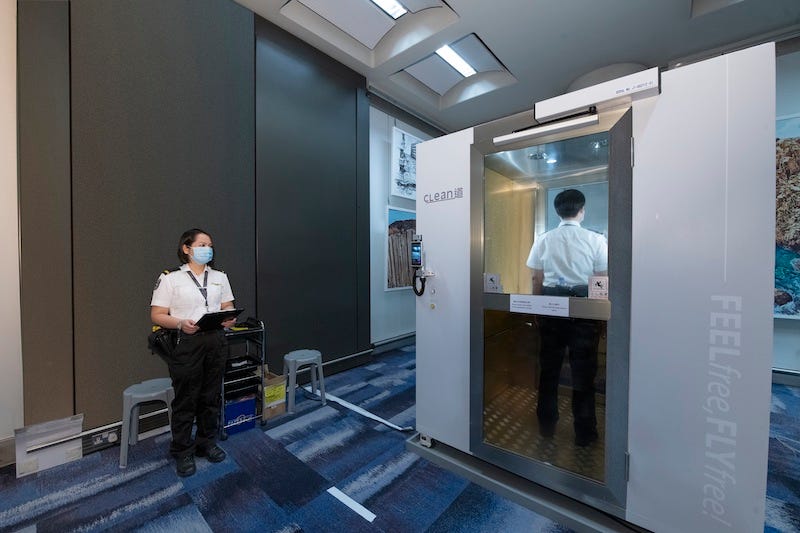 1)
Air Bubble Reunions Turn Chaotic in Australia
"It was like a scene from Love Actually," is how Sydney Airport captioned photos on its Twitter account depicting day one of the Trans-Tasman Travel Bubble. From Friday 16 October, travellers living in New Zealand became able to fly into New South Wales and Northern Territory without undertaking a 14-day quarantine.
Around 230 passengers, including both Australians and New Zealanders, arrived in Sydney from Auckland on Friday to be greeted by loved ones amid emotional scenes. 
The flight carried the first international visitors to arrive quarantine-free in Australia for more than 200 days. Visitors to Australia from New Zealand would have to undergo a 14-day quarantine, however, should they return to New Zealand. 
Friday's flight kicked off phase 1 of the Trans-Tasman Travel Bubble, which was first floated by the Australian and New Zealand Prime Ministers back in late April. 
The initial 'feel-good factor' would not last very long, however.
"Trust between the two countries is likely to have been strained by the chaotic travel events that occurred."
Australia had initially wanted a two-way bubble, but a protracted outbreak in Melbourne, plus closed borders between some Australian states, put that on hold.
Instead, the goal - until this weekend - was to gradually expand travel from New Zealand to Australia on a state-by-state basis, and introduce a two-way Travel Bubble as conditions ease.
Trust between the two countries, though, is likely to have been strained by the chaotic travel events that occurred.
"Soon after the first Auckland-Sydney flight landed on Friday, concerns were raised about inter-state implementation of the Air Travel Bubble in Australia."
Soon after the first Auckland-Sydney flight landed on Friday, concerns were raised about inter-state implementation of the Air Travel Bubble in Australia.
Upon arrival, 17 of the passengers were believed to have taken connecting flights to Melbourne. Australia's second city is not part of the current Trans-Tasman Travel Bubble arrangement. 
It later transpired that 65 passengers flew on to Melbourne from Sydney over the first weekend of the Travel Bubble opening. In addition, 23 so-called "border hoppers" flew unannounced to Perth, Western Australia. They must now undergo quarantine.
Passengers from New Zealand also found their way to South Australia and Tasmania.
This was not how the Travel Bubble was expected to play out in its first few days. It has been a major embarrassment for Australia.
Victoria state premier Daniel Andrews said Melbourne Airport officials had no power to detain the passengers for infringing the Travel Bubble conditions:
"Something has gone wrong in this system, we are not supposed to be part of this arrangement."
Western Australia premier Mark McGowan commented:
"We would prefer better management of these arrangements, but this is something that happened that was outside of our control."
Contrasting media analysis was on display on either side of the Tasman Sea, known colloquially as "The Ditch."
Australia's ABC News described day one as "a bumpy start… but a first step towards coming back to normality." The New Zealand Herald headlined with "Travel bubble bursts."
Within Australia, this is likely to further fuel the fiery debate between state premiers and the federal government regarding ongoing state border closures.
Beyond the Tasman, it will evoke extra caution between countries entering into Travel Bubble negotiations, especially if there are different COVID-19 circumstances or control mechanisms within one or more of the partner nations.
Not an auspicious start.
2) Bring on the SIN-HKG Air Bubble
Dubbed "The World's First Two-Way Travel Bubble," Asia's primary air hubs, Hong Kong and Singapore, are preparing for Asia's premium COVID-era reopening. The news, which broke on Thursday, sent ripples of hope through Asia's travel sector. 
The Hong Kong-Singapore Air Travel Bubble has been agreed "in principle" by both sides. Full details of the bilateral roll-out are expected in the next week, or so.
While travellers in both cities may relish the option of non-staycation travel, the potential beneficiaries will likely be the flag carriers, Cathay Pacific and Singapore Airlines. Hong Kong International and Singapore Changi airports also stand to benefit after months of massive under-utilisation.
"While travellers in both cities may relish the option of non-staycation travel, the potential beneficiaries will likely be the flag carriers."
Without domestic air travel as a revenue source, both airlines have been forced to raise huge amounts of extra funding from shareholders. For Singapore Airlines, that means Temasek, and for Cathay Pacific, it is Swire Pacific, Air China and Qatar Airways.
Last month, Cathay said it expected to be flying at around 10% capacity in September and October. Singapore Airlines said it was not expecting to reach 15% of capacity until the end of December 2020.
Both Singapore and Hong Kong are, ordinarily, extremely open travel economies, but the aviation and tourism sectors have incurred deep financial damage in 2020. The Air Travel Bubble represents more than a sense of hope; it could be a vital lifeline. Hence it was enthusiastically greeted in both cities. 
"The Air Travel Bubble represents more than a sense of hope; it could be a vital lifeline."
While the financial imperative is evident, the turnkey to unlock the deal was COVID-19 strategic management. On 15 October, the day the Air Travel Bubble was announced, Hong Kong counted 12 new COVID-19 cases. Singapore reported 3. Since the outbreak in January, the two cities have recorded a combined total of 133 deaths. 
"Both our cities have low incidence of COVID-19 cases and have put in place robust mechanisms to manage and control COVID-19," said Ong Ye Kung, Singapore's Transport Secretary.
In that context, Singapore and Hong Kong (currently) fulfil the criteria for a COVID-safe Travel Bubble originally set out by Australian Prime Minister Scott Morrison and New Zealand Prime Minister Jacinda Airport. That was 5 months ago in late April. 
Rigorous testing, tracing and tracking regimes have co-existed with closed borders. Driving down infection rates – and then, crucially, keeping them low – was prioritised.
Relatively small populations have helped, albeit with high-density living in parts of both cities. Hong Kong and Singapore count a combined population of 13.31 million (Hong Kong 7.52 million, Singapore 5.69 million) – which is slightly more than half that of Australia, and 2.6 times greater than New Zealand.
"No restriction on travel purpose" is the headline-making part of the agreement. This suggests that all forms of travel will be permitted without a quarantine or stay-at-home requirement. Completing a negative COVID-19 test will be mandatory.
"The Air Travel Bubble could be 'suspended in line with the latest developments and COVID-19 situation in the two cities'."
Both sides say the agreement "can be scaled by adjusting the number of dedicated flights upwards or downwards." That suggests an initial cap on travellers in each direction will be in place. 
A necessary caveat also exists. The Air Travel Bubble could be "suspended in line with the latest developments and COVID-19 situation in the two cities."
Hong Kong and Singapore are taking a regional lead, but one that is sensibly cautious in the current context – which, given the pernicious nature of COVID-19, may change.
The Air Travel Bubble also hints at how Asia's travel landscape will be reshaped. Pre-2020, Hong Kong and Singapore were by no means priority markets for each other.
In 2019, Hong Kong was Singapore's 13th largest visitor source market, with 489,000 visitors, while 453,000 Singaporeans visited Hong Kong. This represented a 25.8% annual drop, most likely attributable to last year's street protests in Hong Kong.
Moreover, air traffic between the region's two hubs is less prolific that might be expected.
In 2019, Hong Kong-Singapore was the 10th busiest air route in Asia Pacific with 3.78 million seats, according to OAG, Interestingly, Hong Kong's air routes to Taipei, Shanghai, Seoul Incheon and Manila and from Bangkok, and routes to Singapore Changi from KL, Jakarta and Bangkok, were all busier than Hong Kong to Singapore. 
3) Asia's Mixed Economic Outlook
The pace, or otherwise, of economic recovery will be closely watched by tourism policy planners worldwide. As Asian governments start to investigate various options to reboot travel, the depth of economic scarring will impact how destinations, airlines, hotels et al forge their near-term demand and supply models. Or, at least, it should.
So, here in bullet point form, are 8 key takeaways from the International Monetary Fund's World Economic Outlook Update (October 2020):
Global growth is projected at −4.4 percent in 2020, a less severe contraction than forecast in June 2020 reflecting "better-than- anticipated second quarter GDP out-turns, mostly in advanced economies."

2021 is currently forecast to see global growth of 5.2%, a little lower than the June 2020 forecast, reflecting "the more moderate downturn projected for 2020 and consistent with expectations of persistent social distancing."

As a result of the contraction in 2020 and recovery in 2021, the level of global GDP in 2021 is expected to be 0.6% above that of 2019. 

While recovery in China has been faster than expected, the global economy's long ascent back to pre-pandemic levels of activity "remains prone to setbacks." 

Prospects for China are much stronger than for most global economies, with projected growth of over 10% across 2020 and 2021. 

In India, which contracted more severely than expected in the second quarter, the economy is projected to contract by 10.3% in 2020, before rebounding by 8.8% in 2021. 

Only 8 Asian economies are predicted to record zero or positive GDP growth in both 2020 and 2021: Bangladesh (3.8%, 4.4%), Brunei (0.1%, 3.2%), China (1.9%, 8.2%), Lao PDR (0.2%, 4.8%), Myanmar (2.0%, 5.7%), Nauru (0.7%, 1.3%), Nepal (0.0%, 2.5%) and Vietnam (1.6%, 6.7%)

Five Asian economies likely to experience severe GDP contractions in 2020, before rebounding strongly in 2021 are: Fiji (-21.0%, 11.5%), Malaysia (-6.0%, 7.8%) Maldives (-18.6%, 12.7%), Philippines (-8.3%, 7.4) and Thailand (-7.1%, 4.0%).
4) Sitting on the Dock of China's Greater Bay
Shenzhen holds a special place in China's modern economic folklore. It was here, 40 years ago, that Deng Xiaoping's Southern Tour launched China's first Special Economic Zone.
This kickstarted the process of reform and opening up to the world. The interim outcomes are relatively easy to fill in.
China is now the world's second largest economy, and a rising superpower. Ordinarily, it's the world's second largest aviation market, although 2020's unique circumstances mean it currently ranks number one due to its domestic capacity. It also counts the world's largest, and most prized, outbound travel sector.
On Wednesday, Chinese President Xi Jinping gave a speech to honour the 40th anniversary of the Shenzhen Special Economic Zone. In it, he emphasised the city's central role in developing southern China's "Greater Bay Area" - also known as the Guangdong-Hong Kong-Macau Greater Bay Area.

Formerly referred to as the Pearl River Delta, the Greater Bay Area is a Chinese government scheme to integrate the two Special Administrative Regions of Hong Kong and Macau with the cities of Guangzhou, Shenzhen, Zhuhai, Foshan, Zhongshan, Dongguan, Huizhou, Jiangmen and Zhaoqing. The goal is to forge a powerful regional centre for commerce, technology, transport and tourism.
Shenzhen, as the heartbeat of the Greater Bay Area and one of China's two financial centres (along with Shanghai), is also the hub for the nation's new pilot digital currency, the forerunner of what will become China's heavily hyped 'e-RMB'.
The Greater Bay Area project is not new, but it largely avoided global attention until October 2018, when China opened the 55km Hong Kong-Macau-Zhuhai Bridge. Hailed as the longest cross-sea bridge in the world, it stands as a gigantic engineering statement of China's ambition. It also serves as an integrated land and sea mechanism to connect the Greater Bay Area.
In travel terms, China wants the 11 cities to promote the Greater Bay Area as a single destination. The plan is now moving beyond the conceptual. A new carrier, Greater Bay Airlines, has applied for a licence to operate from Hong Kong.
This week, Dane Cheng, Executive Director, Hong Kong Tourism Board, said Hong Kong's tourism sector must adapt to become a connective nexus to southern China for both international and domestic visitors.
"For a lot of visitors in the future, when they come to Hong Kong, it is not just coming to Hong Kong, but they would also make a side trip using the high-speed rail or mega bridge to the Greater Bay Area."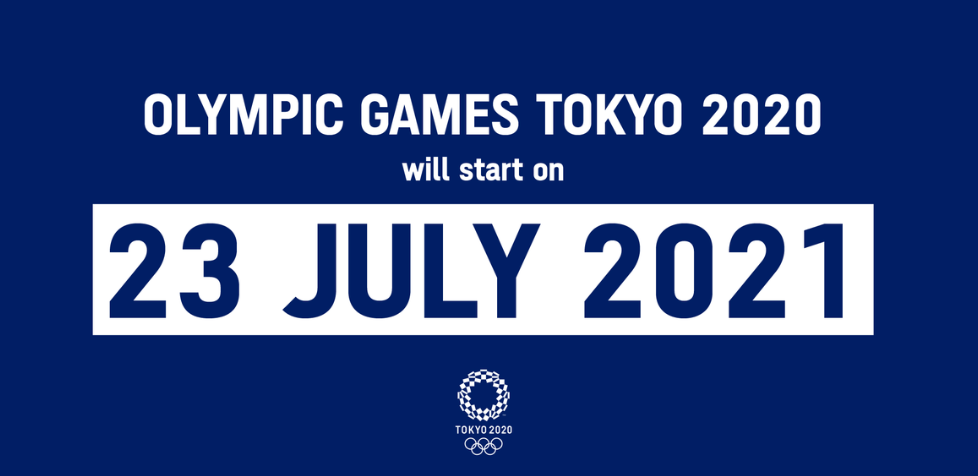 5) Tokyo Keeps the 2021 Dream Alive
With 278 days to go, Tokyo is stepping up preparations to host the postponed 2020 Olympics. But will inbound spectators be allowed into the stadiums?
This week, new Japanese Prime Minister Yoshihide Suga - a long-time advocate of the tourism sector - vowed to resuscitate travel and tourism. Pointedly, he made a commitment to Japan's pre-pandemic target of 60 million visitors per year by 2030.
A pivotal part of this strategy, he said, would be for Tokyo to host the delayed Olympic and Paralympic Games in the summer of 2021. He added that delivering a successful Olympics would serve "as a proof that the human race has conquered the virus."
"As part of its advance planning, Japan will host three days of trial events at a baseball stadium in Yokohama 'with large numbers of spectators'."
As part of its advance planning, Japan will host three days of trial events at a baseball stadium in Yokohama "with large numbers of spectators," according to Kyodo News. The objective is "to mobilise the most advanced technologies to present a model and create a path toward the success of the Tokyo Olympics."
If the first two days of trial games are held safely and without incident, the final match would see the 34,000-seat stadium filled to full capacity. By any standards, that would represent a fairly sizeable statement of intent.
The Tokyo 2021 Olympic organisers also announced this week that the athletes' village could feature a "health centre exclusively for treating competitors and coaches suspected of being infected with the novel coronavirus."
With the health and safety aspects taking precedent, Olympics marketing is taking a back seat for now. The official website, tokyo2020.org, is yet to update its URL title or the official Olympic Games logo for the 2021 edition. It does, however, feature a countdown clock to the lighting of the Olympic flame.
—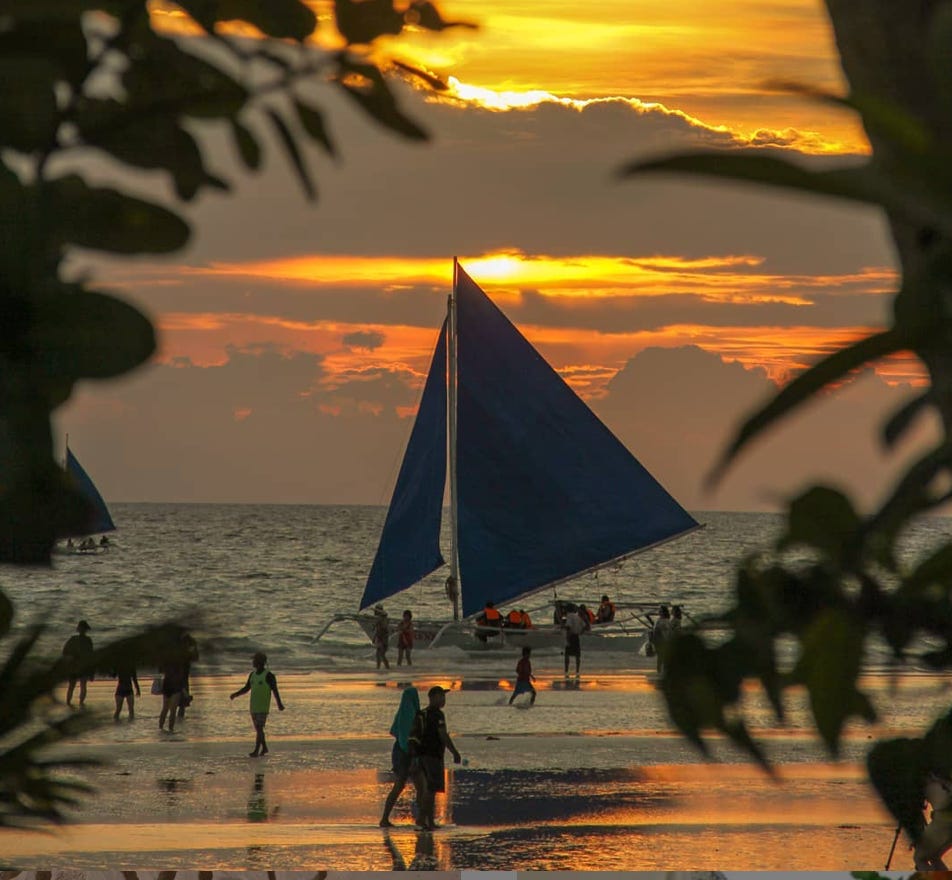 6) Seeking Fun In and Out of the Philippines 
Two months ago, the prospects for the Philippines' travel sector looked bleak. It had overtaken Indonesia to count the largest cumulative total of COVID-19 infections in South East Asia. Moreover, a confusing system of regional lockdowns, quarantines and restrictions were strangling the economy of this archipelago nation.
This week, however, the Philippines delivered a triple boost.
The nation will remove a ban on non-essential outbound travel from 21 October, provided travellers buy a return ticket to the Philippines, deliver a negative antigen test and purchase adequate travel insurance.

Domestic travel restrictions are also being eased, with a range of health and safety protocols introduced for destinations and travel providers. Some regions may open gradually with a daily cap on visitors imposed for an initial period.

Travel agencies and tour operators can resume business in GCQ (General Community Quarantine) and MGCQ (Modified General Community Quarantine) areas.
Immediately, the nation's cash-starved airlines announced plans to re-introduce flight routes as demand picks up. Cebu Pacific says it will roll out a new antigen testing process it has developed with the government to prioritise safety.
Stating that outbound reopening is only part of a complex process, Roberto Lim, Executive Director of the Air Carriers Association of the Philippines said the nation lags behind most ASEAN and Asia Pacific countries in reviving domestic air travel.
"Our domestic air traffic is around 15% of pre-COVID levels, while our Asia neighbors are in 35 to 60%. This low level has a retarding effect on the country's recovery."
Moreover, Philippine travellers will have to plan their destination choices extremely diligently. Many popular destinations are currently not accepting inbound tourists. While the decision may have been timed to coincide with more positive reopening sentiment, caution still abounds across Asia Pacific.
Creating reciprocal travel bubbles may prove tricky for a country with over 350,000 COVID-19 cases so far. It may, instead, seek to negotiate one-way corridors - but which destinations will open their doors first?
Keep an eye on the charter travel operators - this could be the time they have been biding for.
7) Malaysia Airlines Shuffles its Cards
Speculation - some of it from within - continues about the future of Malaysia Airlines. This week, both its CEO and the single shareholder Khazanah Nasional stated that the national carrier may transfer its operating licence to another airline within the group.
Those other airlines are Firefly, a city-to-city low-cost carrier, and MASWings, which operates routes in the East Malaysian states of Sabah and Sarawak. 
In a video message to airline staff, Captain Izham Ismail CEO of Malaysia Aviation Group, said the airline has two options, Plan A and Plan B.
Plan A currently involves "Very deep and serious negotiations with, lessors, creditors, partners and shareholders… to convince them to work with us to restructure our costs."
Should these negotiations be rejected – as was widely reported this week by local media – Plan B would kick in. 
"If negotiations with creditors fail, we will have to look at winding up Malaysia Airlines, and we would probably have to consider shutting it down and grow as a new airline under Firefly and MASWings."
The CEO continued:
"That [Firefly or MASWings] might not be the ultimate name. We would consider changing it to reflect Malaysia."
This perspective was repeated by Datuk Shahril Ridza Ridzuan, Managing Director of Khazanah, Malaysia's sovereign wealth fund. It has been the single shareholder of the Malaysia Airline System group since a previous restructure in 2014. "If implemented successfully, Firefly has the potential to become the national airline," he stated. 
Khazanah is chaired by Malaysia's Prime Minister, Muhyiddin Yassin. In October 2019, previous Prime Minister (and Khazanah chair) Mahatir Mohamad, publicly stated the debt-laden Malaysia Airlines should either sell a stake to another carrier or close. 
Also this week, Firefly announced an expansion for 2021. In addition to its existing base at Subang Airport in Kuala Lumpur, it will step up services from Penang, in the north of the peninsula. It plans to increase its route network by 36% over 5 years to include secondary Malaysian cities, Thailand, Indonesia and Singapore. F
irefly also says it is will add up to 10 Boeing 737-800 aircraft from Malaysia Airlines to its turboprop-only current fleet.
8) Cambodia's New "Luxury" Airport
Singapore Changi's decision to postpone development of Terminal 5 for at least two years was a sensible strategic decision. As the nation's transport ministry said this week, "The assumptions when we went into Terminal 5 have totally changed."
But while the pandemic has halted some big-ticket transport infrastructure projects in Asia, many others are forging ahead. In some instances, delays have occurred. That is not an exclusive outcome of pandemic times; infrastructure build-outs are notoriously adept at overrunning deadlines - and budgets.
Which brings us to Cambodia. Despite the passenger terminals at the country's 3 primary airports, Phnom Penh, Siem Reap and Sihanoukville, being near silent in recent months, a new player is preparing to open its runway.
The USD3.5 billion Dara Sakor International Airport in Koh Kong province will operate on a different model, however. Located in southwestern Cambodia, near the Gulf of Thailand, it is scheduled to open in mid-2021. It will be the gateway to a multi-billion-dollar tourism, gold, casino resort. A naval port and cruise terminal are nearby. 
Described this week by Cambodian media as a "luxury airport," it is being funded and developed by Union Development Group, which is based in Tianjin, China, under a 99-year lease. 
The runway at Dara Sakor is slated to be the longest in Cambodia, but although slated as an international airport, it will operate principally for charter and so-called 'special' flights, rather than scheduled services. "It will serve high class tourists," a spokes-person for Cambodia's State Secretariat of Civil Aviation told Khmer Times this week.
Dara Sakor will also serve as a transit point for private charter travellers to visit other destinations in Cambodia, such as Siem Reap of Sihanoukville. 
One to keep an eye on, for sure.
---
And, that's a wrap for Issue 12. 
Until next time, you can catch me on Twitter and LinkedIn, and at Check-in Asia. Each week, I'm also on The South East Asia Travel Show. 
Comments and feedback to gary@check-in.asia are welcome - regardless of positivity, indifference or ego-churning negativity.
Speak soon,
Gary