Asia Travel Re:Set #4 - Is The Sun Setting on Asia's Tourism Boom Years?
"China moves within 8% of January air capacity"
Hello. Welcome to the midweek edition.
This week, the UNWTO confirmed that Asia Pacific was the region hardest hit by the COVID-19 pandemic in the first half of 2020. With borders still mostly closed, the economic pain is likely to endure and worsen. Is the sun now setting on Asia's 2010s tourism boom era?
Meanwhile, yesterday was a dramatic day for tourism politics in South East Asia.
Thailand's cabinet approved, in principle, the Special Tourist Visa scheme for long-stay visitors, while – conversely – Malaysia's Prime Minister emphatically ruled out reopening the borders "any time soon."
In addition, Hong Kong media reported that five South East Asian nations may gain priority status for China's COVID-19 vaccine, which could be distributed in 2020.
Also today, the first 'People in Travel' feature hangs out in Delhi with tour guide, food fanatic and amateur stone carver Ashwani Bhati, aka The Horses King.
This week, I did interviews for CNN and Skift, and began pondering the final travel quarter of 2020. More on these in Sunday's issue.
Thanks for jumping onboard.
Gary
[Image: Gary Bowerman]
---
The Midweek Itinerary:
- Global Travel Snapshot
- China Snapshots
- China-South East Asia Snapshot
- South East Asia Snapshots
- Australia Snapshot
- People in Travel: Delhi Tour Guide Ashwani Bhati Talks Pandemic Travel
---
Global Travel Snapshot
Asia Travel Hit Hardest by Pandemic
Unsurprisingly, the UNWTO this week confirmed a "massive drop" in international travel demand from January-June 2020. It says the first half of the year witnessed "a loss of 440 million international arrivals and about USD460 billion in revenues. This is roughly five times larger than the loss of international tourism receipts in 2009 amid the global financial crisis.
"Asia and the Pacific, the first region to feel the impact of COVID-19 on tourism, was the hardest hit, with a 72% fall in tourists for the six-month period," UNWTO, 15 September.
---
China Snapshots
Domestic Tourism "In Recovery"
China's domestic travel sector remains in recovery phase, with the China Tourism Academy forecasting 3.4 billion trips in 2020 – down 43% on 2019. This, of course, is heavily weighted by widespread travel inactivity during the early months of the year. A clearer picture is likely to emerge about Chinese in-the-moment travel confidence during the upcoming 8-day public holiday at the start of October.
Last week, China's air capacity inched up slightly, and is "within 8%" of the overall pre-pandemic level in January, according to OAG. Currently, the world's largest air market, China counted 15.5 million domestic flight seats last week, more than the combined total of the markets ranked 3rd-10th. The US is second, with 10.4 million seats. Japan #3 India #5 and Indonesia #6 are Asia's other Top 10-ranked nations
Chinese domestic travel has ascended a steep upward curve in recent years, rising from 4.44 billion trips in 2016 to 6.1 billion in 2019. Last year, 782 million domestic trips were made during the October National Holiday alone.
This year, local media is predicting a "record number of travellers" during the October National Week. This would represent a significant shift from the relatively weak travel figures recorded during the May Labour Day holiday.
Five months is a long time in the current travel sphere, however, and the Chinese may travel with slightly more confidence within their own borders next month. With outbound travel off limits - last year, around 7 million Chinese vacationed overseas during the October holiday - China's increased public confidence in having stamped out COVID-19, the expected completion of several vaccine trials and a long-held pent-up demand for taking trips once more should see 2019's record holiday figure broken.
More importantly, the first week of October should provide some initial clues about trends in Chinese post-pandemic travel behaviour. More on this in the Sunday edition.
China-Laos Railway Progress
Construction of the much-hyped cross-border rail tunnel linking southwest China with Laos was completed at the weekend. The new China-Laos high-speed railway is due to begin operations in late 2021. It will form the first part of a proposed China-ASEAN high-speed rail network. The journey time from Kunming in Yunnan Province to Vientiane will be around "half a day".
Fosun Revives Thomas Cook
China's Fosun Tourism Group is relaunching Thomas Cook as an online-only travel booking brand. The Chinese company upped its stake from being the major shareholder to purchase the UK-based tour operator outright after it collapsed last year. It will mostly focus on holidays in Italy, Greece and Turkey. Fosun also owns the Chinese version of Thomas Cook, which offers domestic vacations, and Club Med.
---
China-South East Asia Snapshot
5 Priority Vaccine Nations?
China will be ready to distribute a COVID-19 vaccine "by November or December," reports Hong Kong media. It adds that 5 countries in South East Asia, Cambodia, Laos, Myanmar, Thailand and Vietnam (plus unnamed countries in Africa), "would be among the first to benefit". China is also expected to provide loan funding to countries in Latin America and the Caribbean enabling them to purchase the vaccine.
---
[Image: Gary Bowerman]
South East Asia Snapshots
Malaysia's Borders Stay Shut
"We will not reopen the borders anytime soon." Malaysia's prime minister warned of tougher entry restrictions and another possible lockdown. In a special public address ahead of today's Malaysia Day holiday, he urged the nation against COVID complacency and called for greater public vigilance and hygiene discipline as more clusters emerge in both peninsular and East Malaysia.
Thai Airways Fights On
Thailand's Central Bankruptcy Court has approved Thai Airways debt restructuring application. This just a first step. The proposed airline turnaround plan for the national carrier, which is carrying debts of around USD11 billion, is predicted to take up to 7 years.
Vietnam Postpones Asian Flights
Vietnam Airlines has postponed its proposed resumption of two-way international flights to 6 Asian countries (China, Japan, South Korea, Cambodia, Taiwan and Laos) until further testing and quarantine protocols are approved. A limited number of one-way flights to Japan are expected to restart, however, on 18 September for business travellers and students seeking to fly from Vietnam.
---
Australia Snapshot
Partial Progress on State Border Stasis?
The state of Queensland is "considering" halving its 28-day stipulation of zero community transmissons before visitors from New South Wales would be allowed to enter. However, NSW has not achieved a 14-day COVID-free streak since June. Australia's national cabinet will meet again on Friday to try and resolve the intensifying state border standoffs.
---
People in Travel #1
Hanging Out with The Horses King in Delhi
Ashwani Bhati is Manager of India Food Tour, and an ambassador for the World Food Travel Association.
He studied as a mechanical engineer and worked for a mobile phone maker before volunteering at the Mahatma Gandhi Ashram. A chance meeting with a tour guide changed his life. He completed an MBA in Tourism and Travel Management and began a new journey as a travel guide.
Business was developing well until March 2020. Ashwani recently did his first tour for 5 months.
This week, we chatted about his love for Delhi, his passion for cultural travel and his personal reflections on tourism in the pandemic era.
————-
Why did you give up engineering to be a tour guide?
India has a culture that education is the way to go up, our parents want us to be a lawyer, doctor or engineer. I got my degree, and was working for a Samsung mobile phone maker. The money was good, but I wanted something else. I quit in 2017 and volunteered to teach kids at the Gandhi Ashram. It was the best experience of my life. It really changed me. I met a lady who was a tour guide. She told me fascinating stories, and I knew it was what I wanted to do.
I started working in the tourism industry, but I wanted to study for a masters to satisfy myself I was learning more.
How did you find your first clients?
While studying, I worked as a freelance guide. I tried whatever came my way; food, architecture, photography tours. I was with a free walking tour company. That was the best education, as you are not paid – so if you want to earn money from it, you have to give your best every time, and prove to the customer from day one that you are worth it. I was lucky to get that start.
"I worked as a freelance guide. I tried whatever came my way; food, architecture, photography tours."
Then you took a tour company job?
I became manager of India Food Tour in Delhi, but I like being out in the field, talking to people and showing them the different sides of Delhi. That gives me pleasure.
Is the work seasonal?
Yes, it is very seasonal because of the weather. Delhi can get very hot most of the year, and very cold in winter, from 2 degrees to 38 degrees across the year. Foreign visitors and even tourists from other parts of India can't tolerate the heat. Normally, most tourists come to Delhi – and India also – in the winter season, from September to March, though there are travellers during the rest of the year.
---
"It is a different atmosphere without tourists. In India, when anybody sees a foreigner they feel happy."
---
Do you have both local and international clients?
I'd say 99% are international. They come from around the world, but the main countries are US, Canada, UK, Australia, some from China. The few Indian tourists who come on tours are from different corners of the country. They know that Delhi has good food from social media, and the names of places they want to to visit, but they don't know the stories behind them.
Groups or individual tours?
Both, but mostly groups. We keep groups to 6 people. It's a food tour, so 6 is the right number, but sometimes we have tours of just 1 or 2 people. It's very competitive now. A lot people set up as guides without certifications, and they don't want to provide a genuine experience. I think, the quality of tours did go down in the last couple of years, and this damages the image of the country.
"Before the pandemic, we had bookings for 2020 and 2021."
Do clients book in advance, or when they arrive?
It's a range. Before the pandemic, we had bookings for 2020 and 2021. But also people book when they are in India and they know when they will be free and what they want to do. Clients vary from tour groups and business travellers to backpackers, students and even families with young kids who try the street foods.
Before the pandemic, did you feel 2020 would be a positive year?
No, not really. The problem with India was the economic slowdown in the rest of the world, so tourism was going a little bit down. We were starting to see that in 2019. Of course, no one expected the pandemic but we would have seen a bit of a slowdown this year – but, of course, much better than what has happened.
How did 2020 begin for you?
It was really good in January, and in February we had lots of tourists because people who had planned to travel to China were changing to India and Sri Lanka. This surge lasted into early March, but I did my last tour on the Holi holidays, the Festival of Colours. After that, the government began stopping flights.
What was Delhi like during lockdown?
Delhi was very quiet for 2 months, with no-one on the streets. It was strange. A lot of migrants went back to other parts of India. Now it is back to normal. All over India it is like this. In old Delhi, where we do most of our tours, the streets started to get crowded again in June and July. Soon there was no space to move again. I wasn't expecting that, but I thought "That's the spirit!" It was so good to see people back.
It is a different atmosphere without tourists. In India, when anybody sees a foreigner they feel happy. They want to interact or have a selfie, so that sense of positivity is missing at the moment.
Are Indians travelling again?
People have started travelling inside the country. We see leisure and pilgrim travellers and business travellers. But there are no travellers from overseas. I think that won't be until the end of the year at least, or maybe next March.
---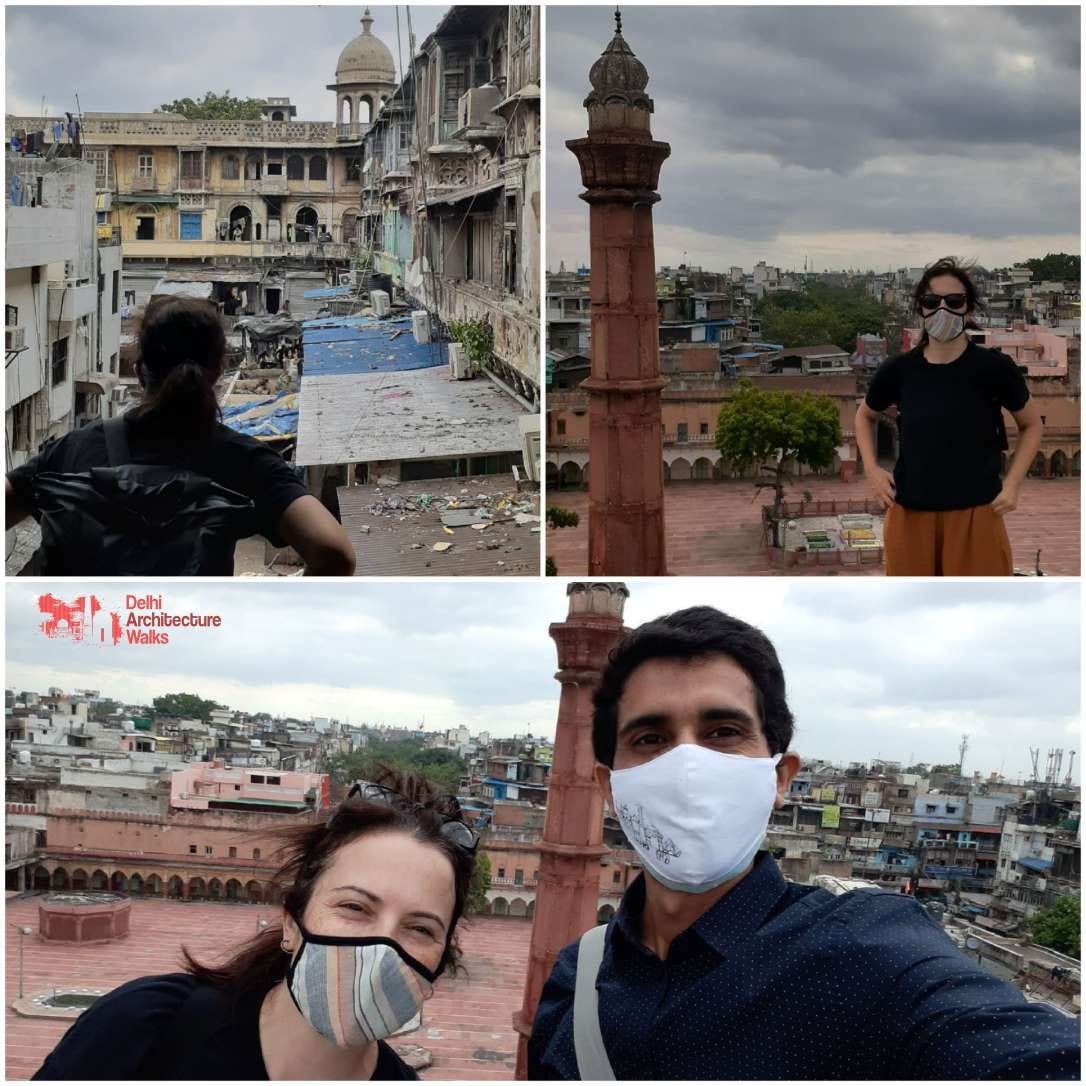 Personally, I love the Delhi crowds. From 10am to 9pm, there is usually no space, and the atmosphere is incredible."
---
So, how was your first tour after 5 months?
It was pure luck. I got an email from an architecture tour company, and I didn't think it was real. I was not even sure while I was standing there to start the tour. And then the client turned up and I thought "Yeah, this is happening." She was from the UK, and came to India in March just before the lockdown. She is working here, but wants to travel and learn about the country. Now seemed the right time to start.
"We wore masks and kept a distance, but we didn't go inside the old monuments because they are very narrow."
We chose a Sunday morning to visit the old city, which was built from the 17th century. On Sunday everything is closed, so it's not crowded. It was safe, the only people around were the street cleaners. We wore masks and kept a distance, but we didn't go inside the old monuments because they are very narrow. We did a full tour though, and it was great. Personally, I love the crowds. From 10am to 9pm, there is usually no space, and the atmosphere is incredible.
What has being a tour guide taught you?
I love talking to people and asking questions about their life stories, I learned about running and training, some guests recommended really good books about history and humanity. I also do photography tours, and learned new tricks about composition and lighting. We can learn from each other.
"I think more people want to travel like this now, to connect to people and culture when they visit a place, for travel to be meaningful."
What does travel mean to you personally?
I don't want to go to places and see things. When I travel, I want to connect with trades people or farmers and learn about their lives, or to give something by volunteering. In January, I travelled to Mahabalipuram, a 5,000-year-old city famous for stone sculpting. I spent 7 days learning stone carving with Indians and foreigners in a workshop. It was amazing. I think more people want to travel like this now, to connect to people and culture when they visit a place, for travel to be meaningful.
How did you choose The Horses King tour name?
My mum gave me the name Ashwani, which is a Sanskrit word meaning King of the Horses, so I reversed it. The Horses King is easy to remember, it makes people smile and everyone asks me what it means.
"The Horses King is easy to remember, it makes people smile and everyone asks me what it means."
What are you doing until tourism returns to Delhi?
I've been reading a lot of books, learning about photoshop, spending time with family and friends. The work is not there, but I get to speak to other professionals around the world, like you. Maybe, in a normal year, we wouldn't get these opportunities.
Are you feeling positive for 2021?
It's our choice what we do. We've seen bad times this year, everyone has. But we can be sad and we can be positive at the same time. That's OK.
---
And, that's a wrap for Issue 4.
Asia Travel Re:Set will return on Sunday.
Until then, you can catch me on Twitter, LinkedIn and The South East Asia Travel Show.
Speak soon,
Gary